Cyber Czech Security Exercise 
Cyber Czech is the only cyber defense exercise of its kind in the Czech Republic which takes place regularly. The combination of technical and nontechnical elements creates complex and realistic situations for learning to oppose cyber attacks.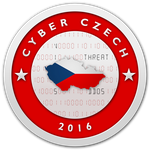 Motivation
The more society depends on information technologies, the vital it is to protect them. Most of countries reflect the situation and try to actively ensure their own cybersecurity. For that reason, the Czech government approved, for example, the law about cybersecurity in 2014 and from the very same reason, our team CSIRT-MU participates in the Cyber Czech security exercise.
The goal of the Cyber Czech exercise is to prepare security specialists from chosen subjects (including government) to be able working under pressure of an ongoing attack.
Technology and specifics
Versatile, functional, variable environment
The training takes place in the unique environment of the KYPO cyber range, which allows to create training infrastructure for executing attacks on critical information infrastructure, business systems etc. KYPO cyber range also enables to scale the attacks and take into account huge computer networks including running applications and services.

Precise monitoring during the exercise and detailed feedback
We monitor all the ongoing activities during the exercise. Based on the observations, we are able to analyze and evaluate the exercise in detail. Our erudite feedback identifies and interprets the mistakes, explain the most effective solution, and also recommends actions for future practice.

Emphasis on gaining real experiences and strengthening cooperation
Several teams (usually six with four members each) are exposed to the identical scenario in each exercise. All the teams deal with the same situation with the identical objectives, but the chosen approach differs according to their strategy, knowledge and abilities. Teams gain points for successful defensive countermeasures. Despite that, the main goal is not winning, but improving skills and gaining new ones to dealing with similar situations in practice.

Realistic scenarios are the key 
Dozens of specialists divided into teams (attackers, law specialists, PR specialists, team managing the technology infrastructure) play an important part in the exercise. We emphasis realistic environment and complexity of the exercise, therefore we do not forget about law aspects or communication with the public within each simulated attack.
Achievements
The combination of the unique environment of the KYPO cyber range, designed by NCISA and efforts of almost hundred people, makes the Cyber Czech exercise extraordinary. Participants regularly evaluate the exercise as highly beneficial for their future work. Ultimately, it contributes to more effective solutions of potential security incidents.
We employ knowledge from organizing the Cyber Czech exercise into other offered services, including training as a service at Masaryk University and commercial training for other interested organizations.
PARTNER